Complete Guide to MI Lifestyle Marketing Network Marketing MLM Plan
MI Lifestyle Network Marketing MLM Business Plan, Products, Profile, Payout
Mi Lifestyle Marketing Global Private Limited is an Indian Network Marketing or MLM Company, which was started a few years ago. The company believes in the enrichment of lifestyle and fulfilling dreams for its marketers.
The company offers unlimited income potential and has a decent range of products.  
Two types of Networks with MI Lifestyle Marketing MLM 
Distributor Network:
In your distributor network, you add business-minded people like yourself into the system. These people then self-purchase as well as introduce new people into their network (which is part of your larger network). MI Lifestyle Marketing provides compensation based on the compensation plan (details below).
A distributor Network of MI Lifestyle Marketing has 2 organizations (Often known as trees, legs, etc in network marketing circles)
Customer Network:
In the customer network of MI Lifestyle Network Marketing, you add people who are not keen to join the MI Lifestyle business opportunity but want to buy their quality products. This is advantageous for the networker as they can sell the products to the customer and the sales add to their Business Value.  
MI Lifestyle Network Marketing MLM Business Plan
Following are the ways to make money via MILifestyle Marketing MLM Plan:
RETAIL PROFIT
SALES TURNOVER BONUS (WEEKLY PAYOUT)
RANK INCOME (MONTHLY PAYOUT)
OVERRIDING BONUS (MONTHLY PAYOUT)
PERFORMANCE BONUS (MONTHLY PAYOUT)
STAR PERFORMANCE BONUS (MONTHLY PAYOUT)
AWARDS AND REWARDS
LOYALTY BONUS
ROYALTY INCOME (MONTHLY PAYOUT)
NTC BONUS
Let us learn about all of these incomes one by one. 
Once you join MI Lifestyle Network Marketing company, you are entitled to get products at DP or the distributor price. This is a discounted price from the Maximum retail price or the MRP. One can sell products at MRP and make a profit for the difference between MRP and DP. This is around 20-40% for most products. 
SALES TURNOVER BONUS (WEEKLY PAYOUT): 12%
This is based on the Business Volume (GBV.) on a weekly basis. All the sales from both the organizations will be accumulated and the lower side (Profit team) will be matched with the higher side (Power team). In this condition, a distributor can earn 12% on matched BVs. This money is as the Sales Matching Bonus and a Maximum of 17.50 Lac GBVs as capping, (i.e. Rs. 2,10,000 capping per week which is 12% of 17.50 lac matching GBV).

There is a Carry forward advantage with MI Lifestyle. It is entertained for every Distributor up to certain slabs based on his/her rank achieved; details are as follows: if the distributor does his minimum purchase and continue to do so he earn income without sponsoring a single distributor in any side, this is the only plan in the world which gives this feature.
*All the Incomes are subject to the fulfillment of the plan eligibility, which defined by the company from time to time.
RANK INCOME (MONTHLY PAYOUT)
The rank income qualification in MI Lifestyle is calculated as per the following table: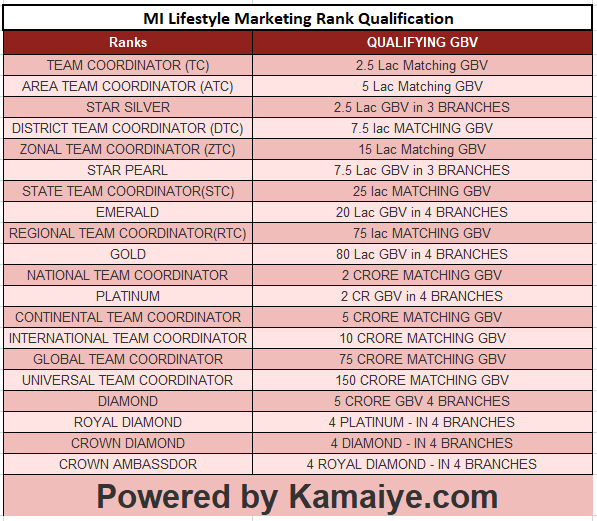 Rank income is calculated as per the below chart.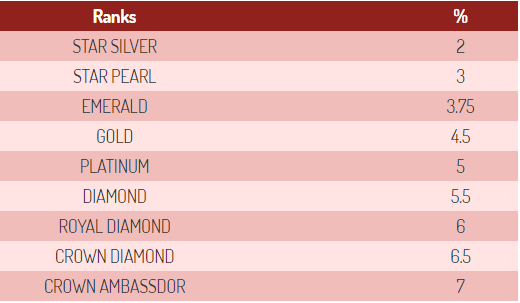 OVERRIDING BONUS (MONTHLY PAYOUT)
An Overriding Bonus worth 10% of Rank Bonus will be paid for 3 levels of same rank 
(Star Silver to Crown Ambassador Executive of the same Rank will be applicable)
PERFORMANCE BONUS (MONTHLY PAYOUT)
1.5% of Global BV turnover of MI Lifestyle Marketing Limited will be shared for Performance Bonus. A pool for individual Rank Distributor with 35% of 1.5 % of global turnover is created and Team Coordinator, Area Team Coordinator, and Star Silver with 15% of 1.5 % of global turnover, District Team Coordinator, Zonal Team Coordinator and Star Pearl with 15% of 1.5 % of global turnover and State Team Coordinator and Regional Team Coordinator with 35% of 1.5 % of global amount, and then the amount will be distributed according to Rank wise pull equally among all the Eligible achievers.
Refer to the table below for the performance bonus of MI Lifestyle.

STAR PERFORMANCE BONUS (MONTHLY PAYOUT)
This is for EMERALD / GOLD / PLATINUM achievers only.
0.5% of the Global BV turnover of the company will be shared for STAR Performance Bonus and we create a pool for individual Rank Emerald with 40% of 0.5 % of the global amount and GOLD with 30% of 0.5 % of the global amount, and Platinum with 30% of 0.5 % of the global amount and then the amount will be distributed according to Rank wise pull equally among all the Eligible achievers.

MI Lifestyle provides a lot of awards and rewards to recognize leaders and achievers to motivate them. The award and rewards are distributed based in the below chart: 

Terms & Condition

*Applicable to Those Distributors whose DOJ is on or after 13/*05/2017 i.e week 201
*The same is applicable from Month 51 onwards
*Minimum monthly purchase condition has to be fulfilled every month for getting Rewards

Star Loyalty Bonus :
If any distributor who is an achiever of the above bonus for consecutive 6 months, he will be paid ONE TIME (Per unique ID) 25% of the Retail Leadership bonus total earned in the last 6 months. Rank as per starting Month of 1st Loyalty Bonus achievement of continuous 6 months will be counted for Foreign Trip (NTC/Gold and RTC/EMERALD). The Reward will be paid as per below:-

Terms and conditions:
* If any Lower Rank fulfill the condition of Repurphase GBV and Repurchase GBV from 3rd/4th Leg of Higher Rank than he will get the Rank Reward as per higher volume. Higher Rank can not participate for Lower Rank volume.
* GBV has to be generated through Repurchase of the team, and Self PBV will not be counted for qualification
* Repurchase – Upto Rs. 5000 purchase will be treated under 1st purchase in single Invoice where as in multiple Invoice it will be counted after 1st Sales. The Next Order after first invoice will be counted under Repurchase
* The Loyalty Bonus is valid for 18 Months and after 18 Months it will be reviewed by the Management
ROYALTY INCOME (MONTHLY PAYOUT)

Eligibility Terms :
* The performance bonus will be paid on the global turnover after eligibility.
* Once eligible, the royalty will be paid for 12 months, subject to active clause. To continue getting the royalty, eligibility criteria should be achieved once again in the prior 12 months.
* Once Diamond Rank achieved, will get Diamond Royalty for 12 MI Month and for getting Diamond Royalty from Month 13, the said Leader has to maintain 75 Lac GBV from 3rd Branch and 50 Lac GBV from Branch 4 in their previous 12 Months and the same is effective from Month 63.
The above table is actually total group sales GBV in a calendar month.
Eligibility Terms :
1. Applicable to NTC and above Leaders.
2.  For getting NTC bonus in current month, he/she must generate minimum 1 Lac Matching GBV in previous month
3.  Generate @25% GBV of Matched BV of previous Month via Repurchase in Current Month
4.  Fulfil minimum monthly purchase condition as per Rank
Minimum Purchase conditions for MI Lifestyle MLM:
The Distributor needs to be an Active Distributor by maintaining Minimum Self purchase (as shown in below table) in 4 rolling weeks to get the monetary benefits. The Sales Matching Income will be on hold for next 4 week, Incase minimum monthly purchase not made. If the accumulation of Sales Turn Over Bonus  is more than ceiling amount, than only ceiling amount will be released.