How Blockchain Based Ponzi Schemes Are Cheating Vulnerable Investors?
How Blockchain Based Ponzi Schemes Are Cheating Vulnerable Investors?
Even with the rise of cryptocurrency and traders that are looking to speculate on the latest coins, there are still malevolent parties that scam investors out of their hard-earned cash. A streak of Ponzi Schemes based on various cryptocurrencies has caused the Indian Government to lay out new rules for "Direct Selling Businesses". However, it's important to know what led to these sweeping reforms and how you can protect yourself from these scams and Ponzi schemes.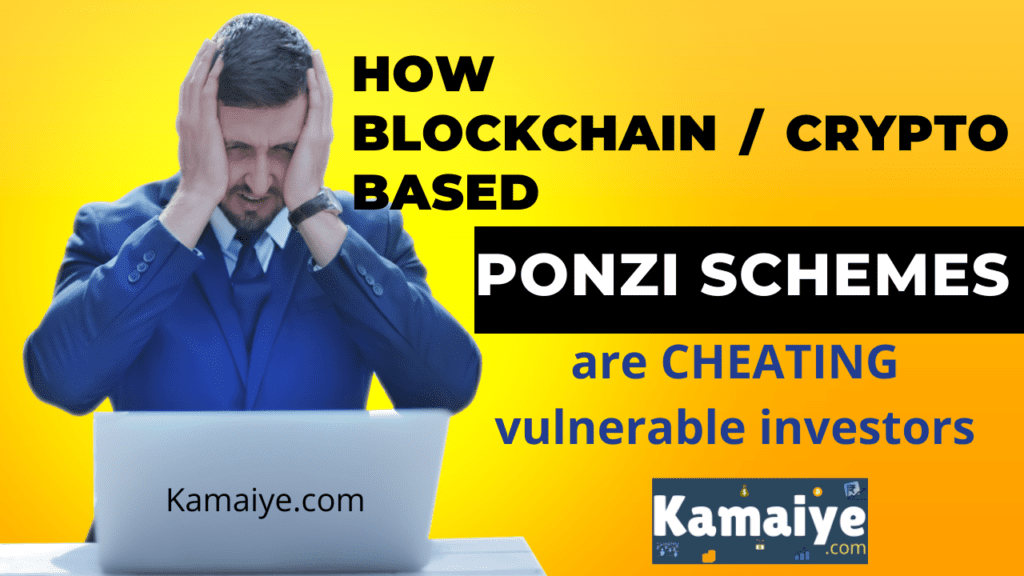 Ponzi Schemes In India: Insecurities In The Blockchain
There have been many crypto-based Ponzi schemes that have affected the savings and lives of many investors. Below are some of the biggest crypto-based Ponzi schemes that happened in the last few years.
OneCoin (Late 2014)
OneCoin was a centralized cryptocurrency that was hosted on official servers manned by OneCoin Ltd. Even with the coin seeing success during the first few years, the company that manages OneCoin issued a notice that there would be a 2-week maintenance period with no changes occurring afterward. Then, on January 2017, the marketplace where OneCoins could be exchanged shut down without any notice.
Due to the fact that OneCoin was hosted on the company's own servers, this meant that they had a larger degree of control over the marketplace. It was used as a medium to exchange educational content. However, it was soon found that many of these were lifted from various sources and not wholly original. The internal marketplace where OneCoin was traded, the OneCoin exchange, was also controlled by OneCoin Ltd. which made it easier to operate the Ponzi scheme.
Although authorities have made strides to serve justice in this case, many of the individuals involved in the scam are still at large.
Forsage (ETH Smart Contract Ponzi Scheme)
Another Ponzi scheme that's been seeing some news as of late is Forsage, one of the most known contract-based earnings programs. This specific one was modeled off of pyramid schemes, a type of scam that's been seen throughout the centuries. As the technology behind cryptocurrencies became more widespread, scammers eventually found ways to take advantage of its proprietary nature.
With the blockchain not being controlled by government regulation, Ethereum scams or any other scam that operates on wireless technology cannot be controlled or turned off. Automated processes can streamline the administration of a pyramid scheme, making it a more alluring option for scammers when compared to traditional methods. orsage operated its scams in a way that only operated the top few percent of the pyramid. Hidden within the code was a portion that diverted investment funds into digital wallets that were not associated with the smart contract system. This caused several US authorities such as the SEC to flag it as a scam along with calls to stop its operations within several states. It has also been banned in several countries such as the Philippines.
MetaForce (Forsage-based Ponzi Scheme)
This Ponzi scheme was released as a similar service to Forsage by Lado Okhotnikov, a person known to be a serial scammer by the crypto community. Investors were usually enticed to invest in MetaForce through videos and social media posts made by social influencers with Hindi viewers being the most affected by it. Although YouTube itself bans the advertisement of pyramid schemes, this has not stopped MetaForce from reaching a wide subscriber base on the website.
As of now, some sources have reported that around $42 million has been pumped into MetaForce through the Forsage BUSD, a coin that's pegged to the US Dollar. With a tier system in place, investors can choose to go from Tier 1 up to Tier 12. Each step costs significantly more BUSD, creating a sort of hierarchal system that's characteristic of pyramid schemes.
Pearlvine (Digital Wallet)
One other business that's currently being observed by crypto watchdogs and investors is the Pearlvine Digital Wallet. Starting in 2017, Pearlvine International has extended its services to India and has been making waves within the local crypto community. However, its similarities to the OneCoin debacle have got other users on edge as they risk a potential rug pull anytime in the future.
The service operates through Digital Points or DP. These digital units are then bought and exchanged on Pearlvine through a deregulated marketplace. Its value is dependent on supply and demand while being protected from inflation due to its finite nature.
India's New Regulations for Direct Selling Businesses
To combat this rising trend of Ponzi Schemes popping up as crypto investments, the Indian Government has seen to the enactment of several new rules regarding "Direct Selling Entities". As per the guidelines of the Department of Consumer Affairs, each business must now declare they are not part of any suspected or ongoing Pyramid or Ponzi schemes. They must also produce documents that verify the seller's identity and maintain a website that has all pertinent information in an easily accessible format.
Direct Selling Entities are not allowed to charge any form of subscription or entrance fee. They are also not allowed to harass, mislead, or refuse services to any client should they find their product defective or deficient of expectations. With all the additional safeguards in place, it seems that these sorts of schemes are well on their way out.
Sources
https://en.wikipedia.org/wiki/OneCoin#Concept
https://pearlvine.com/about-us.php
https://pearlvine.com/terms-of-service.php
https://finance.yahoo.com/news/stop-forsage-meta-force-other-170044420.html
https://taxguru.in/corporate-law/obligation-duties-direct-selling-entities-consumer-protection-direct-selling-rules-2021.html