Why network marketing programs are not getting quick rich programs?
Why network marketing programs are not getting quick rich schemes?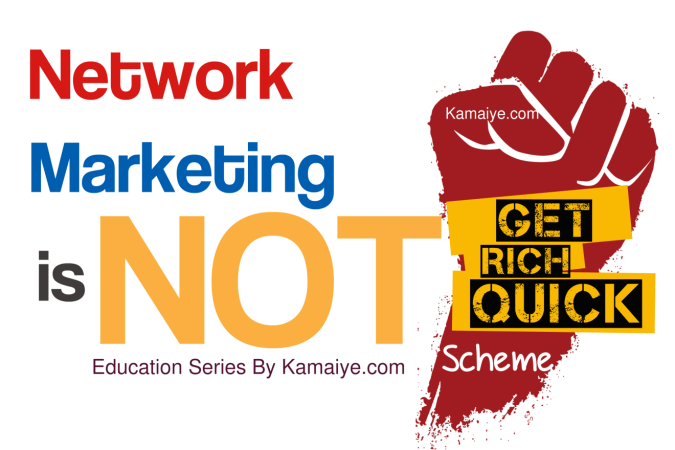 Everything takes its own time and learning before it creates successful people. This is what network marketing expects from you. It could take a new prospect between 3 months to 2 years of working to understand the business and create an attitude needed to be a successful network marketer. Once he understands, network marketing becomes as easy as cooking. This is similar to getting a degree in any profession. Patience and continuous learning is the key to network marketing.
Generally, a person who makes money fits in any one these 3 categories:
Employed
Freelance or independent work, and
Entrepreneur.
We generally have a misconception that that freelancing or self-employed is similar to the entrepreneurship. We presume that both are one and the same thing but they are not. Being employed means you get paid by someone else. The payment depends on what the payee thinks of your worth and there are very fewer chances to explore new things and be yourself. Working for them may give you a salary for 40 years. You might also get a pension which is usually half or less than that of your last paycheck. Although one may get some additional benefits, which are not sustainable and sufficient for most people.
Now talking about the second option which is self-employed. Being self-employed, you just engage yourself with some work. This usually means you are a shop owner, a doctor, an advocate, a web designer etc. In both the cases of being employed or self-employed, if you don't work the money stops coming.
An entrepreneur is someone who handles business and hires people to make it grow. The money never stops, even in his or her absence. With network marketing, there is a great scope to be an entrepreneur without a large investment to start.  It might sound like a cake walk but it is not an easy path. Success in network marketing takes time, constant working, a will to work and full dedication. Field of network marketing is not an easy thing. It takes lots of effort, positive attitude, smart direction and dedicatedly working with the team. Once it is set up, then no one can stop you from making money. Hence it is definitely not a get-rich-quick scheme.
Although there are stories of people who have become successful within a few days. But such stories are very uncommon. Moreover, this might happen when a company is in a "bubble phase" i.e it is growing exponentially.
The field of network marketing is so much challenging that people give up too soon. But this is how network marketing tests you and prepare you for all the future possibilities. It makes you strong enough to face any challenge in your life and prepare you for all the future consequences. That's why it requires time and patience.
Let me tell you one thing "The valuable things are not easily available". I believe we enjoy those things too because the easily available thing can be accessed by everyone but we entrepreneurs work and aspire to build our own different world of possibilities,  explorations,  strategies.
Getting rich in network marketing isn't easy. It takes lots of hard work, grit, focus, determination, devotion as well as a good plan . It depends on many factors, your work should be based on your interest and skills that mesh up to build a good plan. This is the most important part to become an entrepreneur as it will help you to survive for a long run into the industry. For this, you need some trustworthy, talented, suitable and operational team members with creativity in there mind. You should know how to convince your prospects, you would need to research into marketing and should think rationally and creatively as practical things would survive in the market.
Talking about today's world, it is most common and worthy to market a product digitally. But most successful network marketing leaders have made it via face to face discussions.  It is purely a network marketing leader's choice which method to choose. She or he can go in both the ways.
It is also important for an entrant to do his or her own research before joining a program. The company should have a good and motivating environment and should focus on making employees and team members happy. Before joining, it is advisable that a leader check the products and services by himself. An obvious question would arise – are they worthy? Ask about the cost to yourself. And when you are convinced about the plan and the products, promote them with your own personal experience.
Have a strong group that would not get afraid by small downfalls. This will be good for you as well the company. A company that keeps its leaders motivated is poised to succeed. It takes time to make something simple, yet efficient. Network marketing is all about that.  Being a networker, stick to commitment and efforts.
Using the above you can get rich, satisfied and happy. Stay consistent with all this and work constantly. It may test your patience. it might challenge you but will never deceive you. And yes if you are smart about it then you can reach the heights, success beyond your aspirations. Trust me it is going to be a rewarding journey. Keep moving to have faith and go ahead. Thank you!