10 Reasons Why Network Marketing isn't for Everyone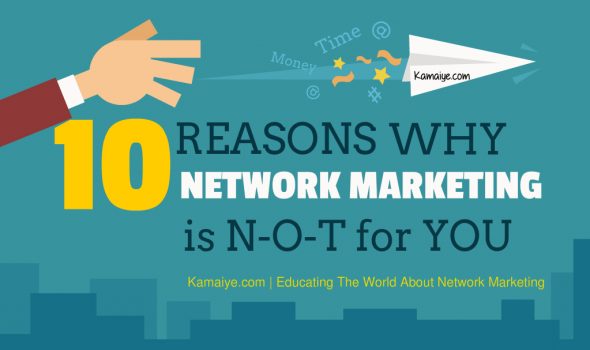 Till now, if you have been following blogs on network marketing, you must have read reasons to be getting into such marketing programs. Some talk about the scope in such a business model and others talk about the high rewards you can yield from it. The 21st century has changed the way companies market themselves and direct selling is one such aspect that is changing the market scenario.
Donald Trump and Warren Buffet have encouraged companies and individuals to involve themselves in network marketing. In fact, their influence on this matter has caused an uprise in direct selling. Many companies are including network marketing or multi-level marketing in their marketing programs to reap the benefits of the fruit. But, if you know the market and understand consumers their behaviours and individual psychology, you would know that where there is a positive side, a negative side follows. Such is the case in network marketing. This is an area that does not fit into everyone's "closet". Meaning, it is not every person's cup of tea. This area requires a lot of contribution and involvement from the individual willing or thinking of involving themselves in this business. Some give up in the initial stages of joining the program whilst others stick around and even succeed. The success rate, however, is not always positive.
In this article, we will cover 10 reasons as to why this may not be something for you.
If you are antisocial or not a people person then unfortunately this is not a field you should be getting into. Network marketing requires you to have potential connections and requires you to interact with a lot of people in order to convert them into customers.
You must be good with words. Your choice of words and ability to manipulate people into purchasing or even trying your product(s) can be a hassle. Those who are born with sales skills should definitely try this route but if you are not comfortable with lying or spinning words around then this is not something for you.
You might have to deal with no income at some point in your networking cycle. This is one such program where you either earn something or you don't. This isn't a steady income cycle, therefore, you must have a backup option in case you fail to deliver in a certain month.
You need to invest in products of an MLM company before you can be a part of their direct selling team. This means you need to invest some in order to be a part of any MLM program. If you are already broke to begin with and can't afford to purchase their products then you won't stand a chance to be a part of their MLM team.
Show off what you do not have. In order to close a deal, you must flaunt yourself in a certain way; you need to show off! Some people are not comfortable with the idea of flaunting things or pretending to be someone else.
If you are not great at dealing with failure network marketing is not for you. According to experts, 97% of network marketers fail at doing their job. It is a tough job to follow and 3% of marketers succeed at this.
The rewards you yield may not be so promising. Every company has different rewards and remuneration scheme. Some offer 2% remuneration of the sales made whilst others offer 5 to 10 per cent of rewards basis on the total sales. In most cases, you cannot even live hand to mouth with such rewards
If you are patient and willing to work on your skills you will succeed. It is however only those who are willing to struggle who make it as leaders in network marketing. This being said, not all who are willing to struggle actually make it. It is a game of Russian roulette; you never know when you will get hit by a bullet.
You must be s person who can deal with rejection. Just like in sales, you will have to face rejection. Rejection can be quite brutal, some will slam doors in your face, some will call you out for promoting a brand that does not follow certain economic or environmental norms and the list can go on and on. Some customers may be rude due to a bad day or because their perceptions and attitudes are negative in general. How you deal with rejection plays an important role. You could come out of a situation like Will Smith in " Pursuit of Happiness" or you can decide to wallow in it. You must be willing to take a hit in this line of business. If you cannot handle rejection and defeat, you are most definitely not destined to follow this line.
You do not have access or the privilege to benefits like healthcare and insurance. Unfortunately, in such business models, an individual cannot be a chooser. You do not get benefits that you would otherwise be getting if you were employed somewhere else fulltime. If you are willing to take the risk and do not require benefits you should go for it but in most cases, everyone is looking to snatch a job that provides them with all these benefits. This being said, some large firms do offer limited benefits but you will have to check for the details in their program booklet.
Here you have 10 reasons as to why network marketing is not for everyone. If you still feel like taking up a challenge and doing something interesting just on the sides then you are most welcome to try. A success story only happens when you are willing to take a risk and if you still fail, at least you still get to learn something. Business is not easy but nothing truly is. A little hard work and struggle take you a long way.