Dayjoy MLM – Profile, Business Plan, Products, Information
Dayjoy is one of the leading Network Marketing companies which has an impeccable profile. The company launched in 2019 with an aim to provide one of the best network marketing opportunities for its pool of networkers.
Profile of Dayjoy – Network Marketing
Dayjoy comes from the house of Adila group of companies in Rajasthan. Adila is one of the leading business conglomerates in the state of Rajasthan and is diversified into multiple categories.
Following are the companies associated with Adila Group:
Kota Dal Mill: since 1962 with various products related to staples.
Multi Metals Ltd: (A million Dollar Company)― Since1962.
Adila Bio-Tech: Herbal & Ayurvedic Product― Since 2009.
Mom Brand: Tech Food. Products (mostly Ready to Eat/cook) available across countries and clients include airlines.
HERMUSA: (Technical Furniture Manufacturer Unit).
ORILITE: A New Age Building Solution.
Annapurna Rasoi: A Subsidy Food Product Unit.
Some more important and useful information about Adila, the parent company of Dayjoy:
The company claims to have a turnover of Rs. 3000 crores.
Adila has its own 200 FMCG products, Medicines, Food Supplements, Wooden Furniture, Copper wires, Tiles, fully Automatic units like Printing, Packaging, Bottling, etc.
Dayjoy's parent company has 10 Manufacturing Unit in 4000 acres
Adila group provides employment to 6000 people
Supplying Ready-to-food for Airlines via MLM brand
In the retail market, Dayjoy backed Adila is Rajasthan's topmost FMCG selling company.
Adila captures the majority market share for last 25 years.
The company's CMD has 58 years of experience in the traditional retail market.
Managing Director is also well-educated person who had completed his studies from London.
FIND TOP LEADERS FROM ALL COMPANIES AND CONNECT WITH THEM. CLICK HERE
DAYJOY advantages:
58 Years Old Company
Big Company
Amazing infrastructure
Own Manufacturing units
One of the most promising MLM opportunities
Product Base Plan – 80 plus products
Result Oriented Products
One of the most elite Management, Support & Leadership in the Indian MLM industry.
Dayjoy MLM Business Plan
There are over a dozen ways a person can make money with Dayjoy Network marketing oppotunity: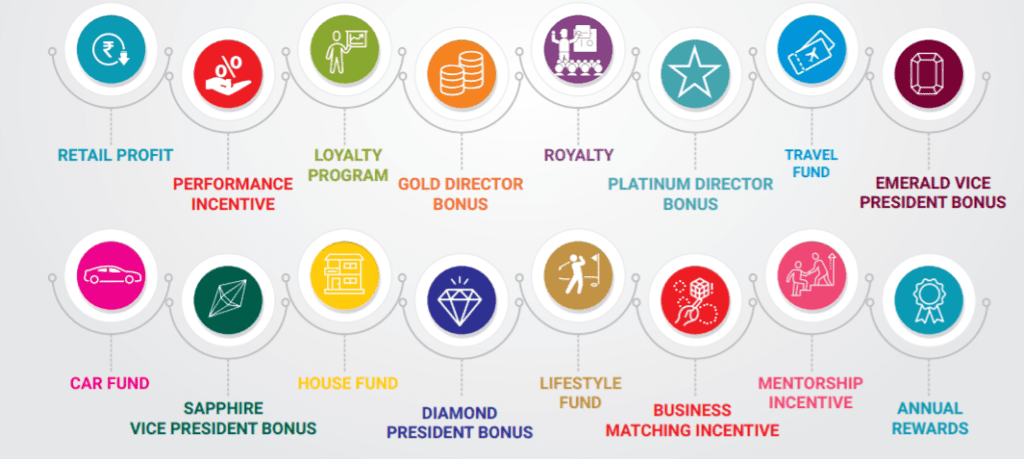 List of earnings with Dayjoy:
RETAIL PROFIT
PERFORMANCE INCENTIVE
LOYALTY PROGRAM
GOLD DIRECTOR BONUS
ROYALTY
PLATINUM DIRECTOR BONUS
TRAVEL FUND
EMERALD VICE PRESIDENT BONUS
CAR FUND
SAPPHIRE VICE PRESIDENT BONUS
HOUSE FUND
DIAMOND PRESIDENT BONUS
LIFESTYLE FUND
BUSINESS MATCHING INCENTIVE
MENTORSHIP INCENTIVE
ANNUAL REWARDS
Let us check all the incomes from Dayjoy network marketing in details:
Retail Profit:
As a Dayjoy Independent Distributor, when one sell products to retail customers, he or she can make profit out of it.
PERFORMANCE INCENTIVE
The performance incentive of Dayjoy goes from 5% to 21% in 5 different levels.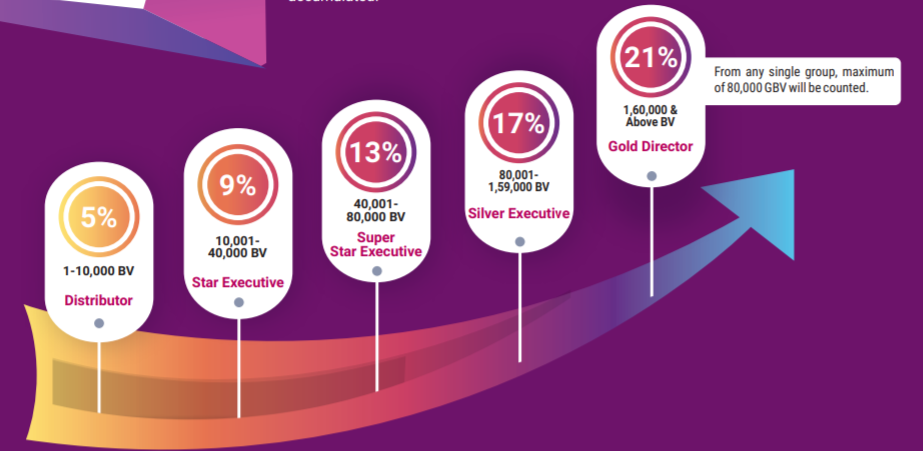 GOLD DIRECTOR BONUS – 5%
When you qualify for Gold Director rank, along with Performance Incentive, you will get 5% Gold
Director Bonus on the total monthly group BV including your self re-purchase.
ROYALTY – 5%
As soon as any distributer of your team achieves Gold Director rank from any of your direct
sponsored groups, you get eligible for monthly Royalty income from that group i.e. 5% of that
monthly group BV. In simpler words, Gold Director Bonus achieved by your directly sponsored
Gold Director will become your Royalty.
Minimum monthly GBV must be at least 10,000 BV with all Non-Gold Directors groups including
your monthly Self Re-Purchase.
PLATINUM DIRECTOR BONUS
Qualification:
Total accumulated GBV including your accumulated Self Re-Purchase BV must be 7.5 lacs and above.
The major group & the second major group must have 30% of the total accumulated GBV (7.5 lacs) each and balance 40% from the rest of all direct sponsored groups.
The points matching of the monthly business will be done in the ratio of 30:30:40. One point will be of 25,000 BV
Benefits:
Platinum Director Bonus: 5% of the total monthly BV turnover of the company will be distributed among all the qualified Platinums & above rank holders in accordance to the points earned on monthly basis.
TRAVEL FUND
2% of the total monthly BV turnover of the company will be distributed among all the qualified Platinums & above rank holders in accordance to the points earned on monthly basis.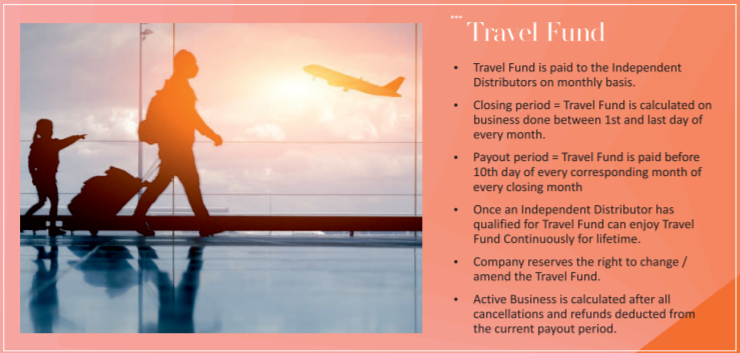 EMERALD VICE PRESIDENT / SAPPHIRE VICE PRESIDENT / DIAMOND PRESIDENT BONUS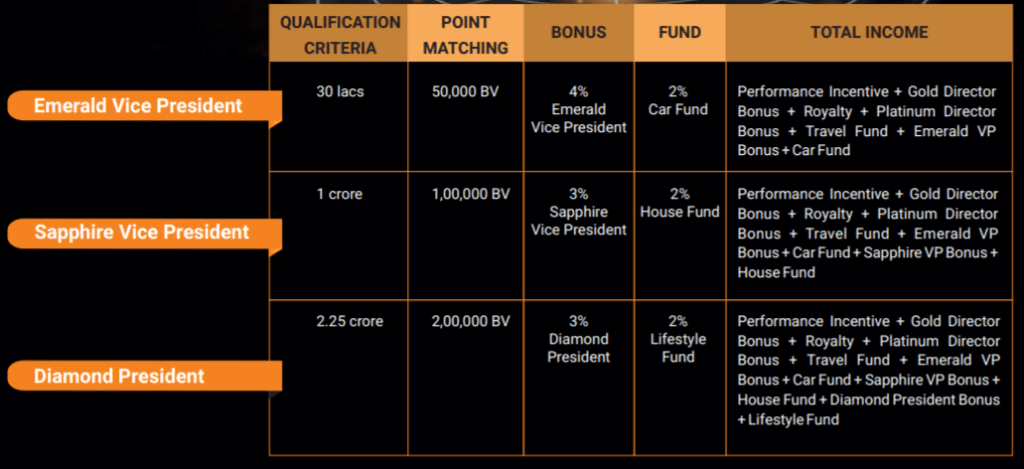 ANNUAL REWARDS

BUSINESS MATCHING INCENTIVE
Business matching in Dayjoy is as per the figure below: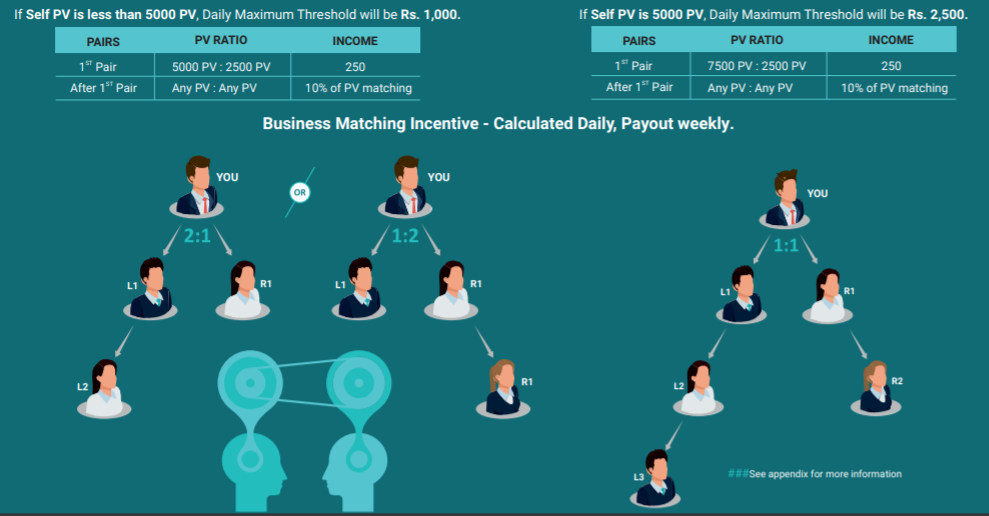 MENTORSHIP INCENTIVE
Mentorship is a relationship in which a more experienced person guides a less experienced person or group of people. Dayjoy Compensation Plan rewards the Mentorship efforts done by its Independent Distributors. Dayjoy Compensation Plan rewards its Independent Distributors with 100% of Business Matching Incentive paid to their directly sponsored Independent Distributors as Mentorship incentive. To earn a Mentorship Incentive an Independent Distributor must have personally referred 2 teams.
LOYALTY PROGRAM
Any distributor who buys minimum products worth Rs. 3000 every month in multiple invoices for 5 consecutive months will get free products worth his 5-month average in the 6th month.
CAR FUND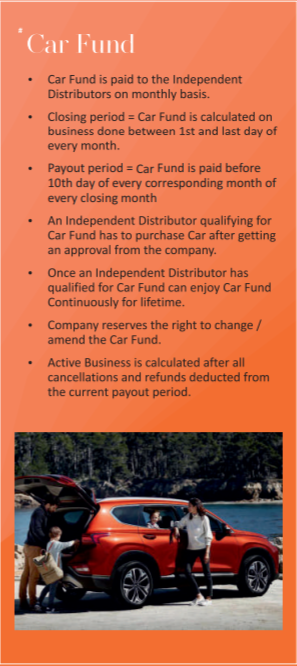 HOUSE FUND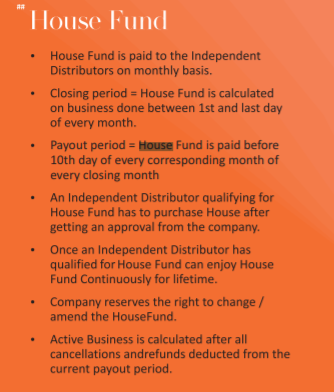 Eligibility Criteria for getting all income: