Interview with Sudhir Khera: MLM Star who achieved his target in 26 days
They say it takes the patience of years to build an MLM empire and start earning a decent living via MLM. But here we met Mr. Sudhir Khera who achieved the initial goal in just 26 days. Sudhir is based out of India and is very happy to be the part of a network marketing company.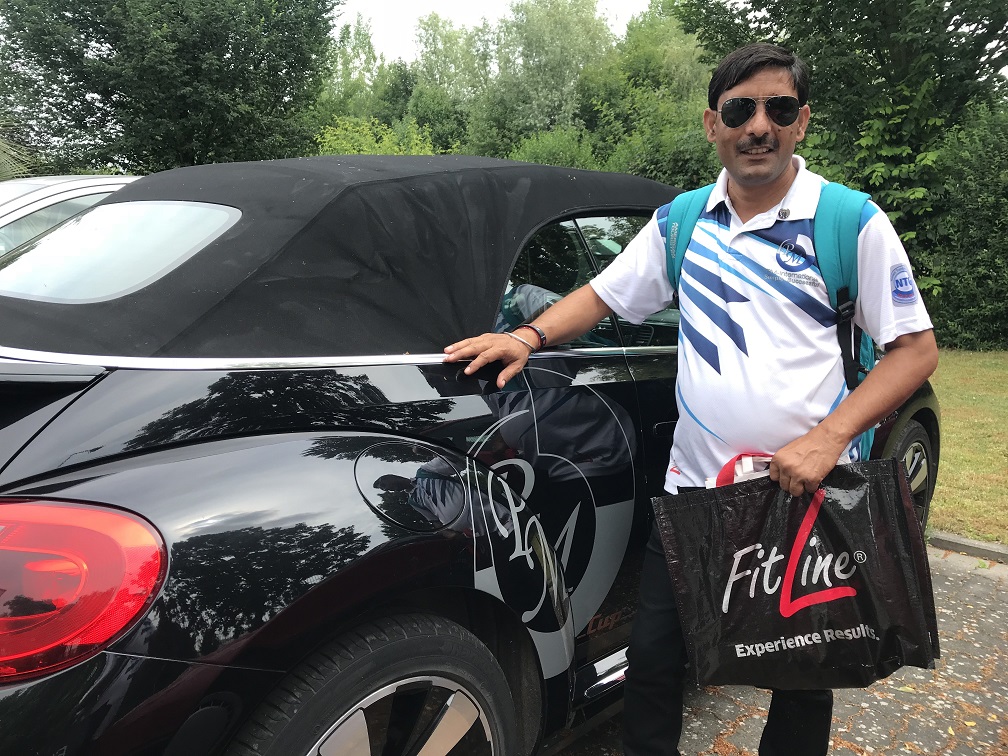 Kamaiye.com: Tell me something about you, to begin with
Sudhir: Realistic, down to earth, hate lies, and always ready to learn, always except changes. Believe that nothing is perfect and permanent also it is true in case of our work/ job, I do not delay in changing my work if a better opportunity comes with promising good future.
Kamaiye.com: What made you join PM International?
Sudhir: Number one it was the product; unknowingly I tested the product, experienced the results in less than 10 minutes, decided to use the products as I was searching for a good nutrition which really worked, got approved the same from my childhood friend who is a good doctor.
Second, the business plan is simple successful, we have to just buy own products to use and if satisfied recommend to some of our friends to do so, no one needs to sell products to anyone. It seemed impossible but it worked and I achieved IMM (International Marketing Manager) in the same month.
Kamaiye.com: Have you ever worked with other Network Marketing Companies?
Sudhir: Yes I did one in 1999 for just 3 months, left that for second which I did approx 9 months both were USA based big brands, products were very good, high price, company meetings in 5 stars but I realized that entry-level Team partners were difficult to retain and we had to search new people each new month. I left for a job and worked in channel sales for more than 13 years covering many states of India. Afterward from 2013 to 2017
I did work for self. In 2017 second half was of cryptocurrencies which I did as a trial and earned a good money with an experience.
It was all money circulating system and not a carrier option.
Kamaiye.com: How did you manage to recruit?
Sudhir: it's really a difficult task for a normal networker but I don't believe it's recruiting people in networking industry it's just matching the frequency with the prospect, it's making one believe in simple successful business.
I just ask the person to experience the results from our products, if he agrees he can never say no because our unique and patented products make him 100% believer.
I use social media as a platform where I share my true stories, thinking if my story reaches people of the same thinking and those searching really a carrier-based business plan.
Kamaiye.com Share some of the initial challenges that you faced.
Sudhir: I have a different nature of being motivated by Challenges so I love a challenge to grow faster and higher.
Kamaiye.com We would like to know insights about your Germany trip.
Sudhir: it was my first foreign trip and exactly what I dreamt of, I always thought of traveling to some European country if got any chance in my life, Germany was also a dream.  The trip was unexpected early!
I did qualify in just 26 days of joining the company. My passport was expired six months before! Got renewed in a week, received the Schengen visa on the day before departure the 4th June 18!!
Got a chance to see Germany for a week-long trip, Got to know how the developed country look, no air, noise, water pollution is there, transportation on time, Automation everywhere.
Attended the 25th-anniversary program of PM international where people reached from more than 40 countries, got special treatment on stage as we achieved fastest IMM in the history of the company!
It made us celebrity there, so many ladies and gentlemen boys and girls were asking for selfies with us !!!
Got so many friends from so many countries, who invited us to their places and asked us not to stay hotels during our future visit to their respective countries. It was really a life time and awesome experience.
Kamaiye.com: Do you have some interesting prospects experiences. 
Sudhir: Yes new friends from social media approach daily from almost all states from India and also from around the world.
Rarely some of them say no to join me, my team.
Kamaiye.com: What are your suggestions for the new MLM joinees?
Sudhir: To new MLM joiners I advise , join a company after only a research, compare products, business plan, and company,
Before  taking decisions to ask yourself what do you want from your future?
So research on what the future of your business will be the future of the company matters a lot in taking decisions.
Kamaiye.com: What is the future of MLM business in India?
Sudhir: The networking industry in India is transforming to be a mature market it will be a number one market around the world in future.
There are so many money circulating and Ponzi schemes in India , they are like gangs looting less informed and innocent people, such type of companies should be avoided.
If I choose networking in wellness industry it's only my India where the wellness industry will get the super success!!
Last but not least – there are so many companies in nutrition dealing in quality products- who will win when all have great quality products?
The competition will be based on Rate of absorption of nutrition and not only on quality!
Fitline products are best absorbed because all products are water soluble( even oil based Omega3 is water soluble, thus patented)
No direct competition worldwide.